By Leaders, For Leaders 2019-2020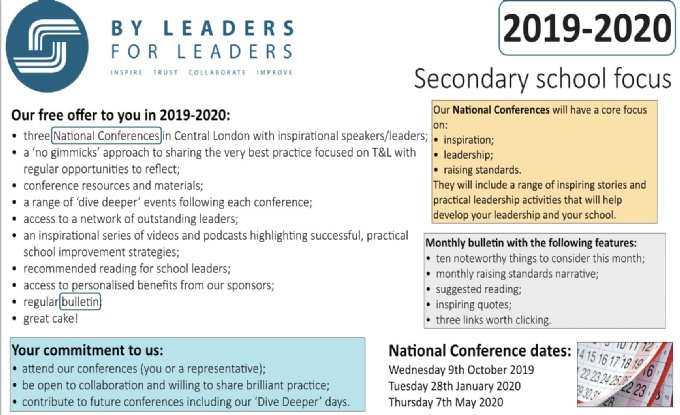 We are delighted to announce our 2019-20 offer and we hope you will be able to join us.
Our free offer to you in 2019-2020:
three National Conferences in Central London with inspirational speakers/leaders;
a 'no gimmicks' approach to sharing the very best practice focused on T&L with regular opportunities to reflect;
conference resources and materials;
a range of 'dive deeper' events following each conference;
access to a network of outstanding leaders;
an inspirational series of videos and podcasts highlighting successful, practical school improvement strategies;
recommended reading for school leaders;
access to personalised benefits from our sponsors;
regular bulletin;
great cake!
Our National Conferences will have a core focus on:
inspiration;
leadership;
raising standards.
They will include a range of inspiring stories and practical leadership activities that will help develop your leadership and your school.

Monthly bulletin with the following features:
ten noteworthy things to consider this month;
monthly raising standards narrative;
suggested reading;
inspiring quotes;
three links worth clicking.
National Conference dates:
Wednesday 9th October 2019
Tuesday 28th January 2020
Thursday 7th May 2020

Your commitment to us:
attend our conferences (you or a representative);
be open to collaboration and willing to share brilliant practice;
contribute to future conferences including our 'Dive Deeper' days.
To sign up for free, please click here.